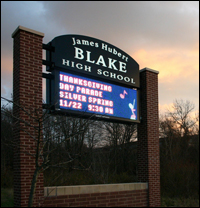 Thousands of people who have grown up in the Washington D.C., Maryland and Virginia areas have school memories that include a Kerley sign or two. Since 1985, Kerley Signs has been creating signage for elementary, middle and high schools in every style, shape and form.
We can manufacture school LED signs, monument signs, logo-header, pedestal as well as fabricated metal letters and any other style that best fits your schools personality. If you'd like to integrate an announcement board into your sign to help keep parents and students informed, we can incorporate digital LED marquee signs or classic letter boards into your sign as well.
Kerley Signs will work within your school's budget to create a distinctive and practical sign for your educational facility.