James Blake High School
The James Hubert Blake High School is a public school which serves 1,932 students through grades 9-12. It is named for James Blake, a ragtime musician who came to prominence in the state during the late 1800′s. The high school ordered a 19mm color sign from us complete with XVS for the best picture possible. The sign is an important part of how they communicate with students, parents and faculty. The attention getting displays relay important information like school closures or a change in hours–as well as alert students to upcoming events like sporting events, plays and dances.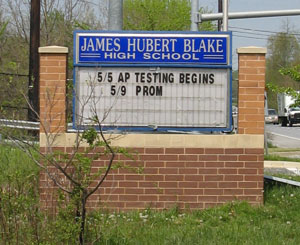 Before – time-consuming to update, low visibility in the dark.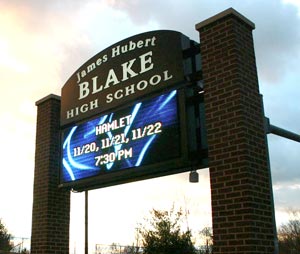 A Watchfire Sign displaying the school's upcoming events.
The 19mm Color XVS sign…
Can stream live high-definition video at 60fps
Offers extremely sharp color depth
19mm Color XVS
48×144 Matrix
Installed 2008
300 Norwood Road
Silver Spring , MD 20905