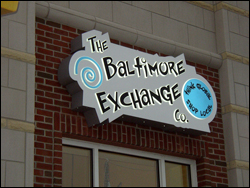 We are experts at branding a site to enhance name recognition. Designing a sign to meet the size standards according to optimal viewing standards studies. We help our customers to create a welcoming environment remembering that 63% of the people who buy do so on an impulse basis. We will work with your landlord to make sure we stay within a shopping center or Malls sign standards
Retail trade is practically impossible to conduct without logos and signage. We at Kerley Signs are experts at logo design and branding methods to enhance name recognition for your business. We can build signs and logos the size and design of which is specifically calibrated for maximum visibility, according to scientific viewing standards studies.
We will also work with your landlord to make sure that we stay within the constraints of the location's specifications and standards. Keeping in mind the fact that 63% of retail purchases are made on impulse, displaying interesting and attractive signs is crucial for a retail business to succeed. Investing in Kerley retail LED signs or neon logos is your best bet to enhance the visibility of your business and increase customer flow.