Glen Burnie Village Shopping Center
A Watchfire LED sign can work wonders for a retail location such as the Glen Burnie Village Shopping Center. The shopping holds several stores, such as a Sherwin Williams and several grocery stores. With Watchfire signs the retail location can advertise specials, sales and even use it to recruit new employees. The attention and added business the signs attract makes them a sound investment. Kerley Signs installed a 19mm color LED sign.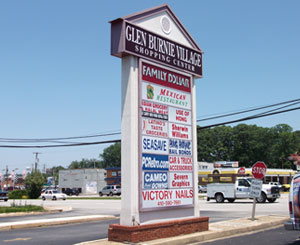 The old sign.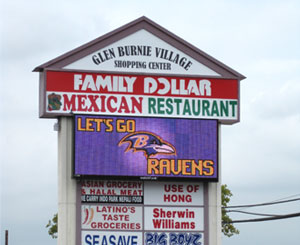 The new LED sign can announce specials or sports events!
The 19mm Color W-Series sign…
Features a high resolution and high visibility
Less costly than a True 16mm sign
19mm Color W Series
64×160 Matrix
Completed July 2011
7560 Ritchie Highway
Baltimore , MD 21208