Nasa
The NASA Goddard Visitor Center is located in Maryland just 30 minutes away from Washington D.C., Baltimore and Annapolis. The space enthusiasts that visit the center will find much of the innovative and exciting work NASA has pioneered in Earth science, engineering and technology development. They can view all of the unique exhibits and models it has to offer.
The NASA Goddard Center had their sign installed in order to attract more visitors and publicize special events. The sign has lead to increased profits, added purchases from the gift shop and a more vibrant place in the community. They purchased 3 19mm LED signs for the entire complex.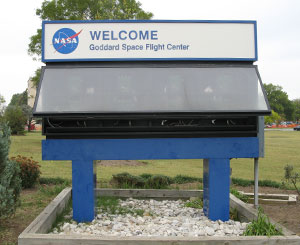 The Goddard Center's old sign – a box.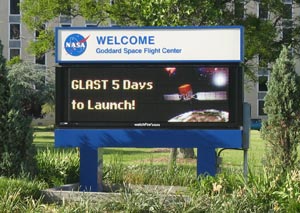 NASA's Watchfire sign announcing an upcoming launch.
The 19mm Color XVS sign…
Can stream true-color video at 60 fps with XVS technology
Highly resistant to heat, cold and moisture
19mm Color XVS
48×144 Matrix
Installed in 2008
NASA Goddard Space Center
Goddard Complex, Maryland