Brava Performing Arts Center
The Brava Center for the Performing Arts is an instructional and civic facility for the performing Arts. It's located in Bowie, Maryland and is available for multiple activities such as music, dance, theater, stage crafts and much more. They had two 19mm LED screens installed with the XVS upgrade. They use the new screens as a marquee for the center. The colorful displays advertise upcoming events. The sign provides the Brava Center with all important visibility, and the software that comes with it provides the center with an extremely easy way to update the message for the slate of constantly changing events.
Old marquee sign – time-consuming to update, lacks an exciting visual element.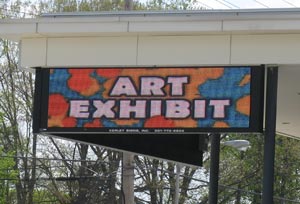 The Brava Center's signs announcing upcoming shows and events.
The 19mm Color XVS sign…
Offers high visibility at any viewing range
Is heat- and weather-resistant
19mm Color XVS
2 Pieces of 48×288 Matrix for wrap-around.
Installed 2008
15200 Annapolis
Bowie , MD 20715