American Legion
The American Legion is a mutual aid organization for veterans of the US armed forces. Their posts can be found all over the country and it was founded to benefit veterans who served during wartime. The group has nearly 3 million members in over 14,000 locations worldwide. The Laplatta, Maryland post had a 19mm monochrome LED display installed. The Watchfire 19mm display has more than 4,000 shading levels. The sign in place has a depth and high-resolution detail not normally found in monochrome signs–displaying images and animated messages vividly.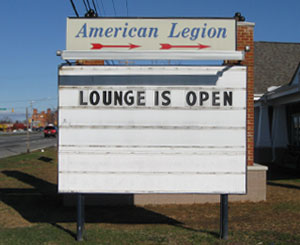 Wouldn't they be much better off with a dynamic LED sign?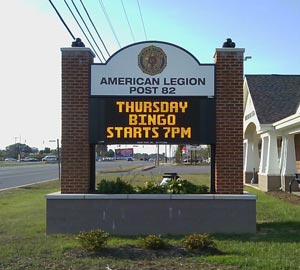 The Watchfire Monochrome sign in action at its roadside location.
The 19mm Monochrome Amber sign…
Has a shading depth of 4096 tones
Low cost, high visibility
19mm Monochrome Amber
48×112 Matrix
Installed 2010
6330 Crain Highway
LaPlatta, MD 20646