Local LED Sign Services
We are so happy that we made the investment with Kerley Signs for our digital signage. Since we have had the sign, our customer base has grown significantly. I have customers comment all the time about how much they like reading our sign. It is a constant communication of what we do , to all that drive by it. The staff at Kerley Signs is so supportive of all our needs. It is wonderful to do business with a local company that cares.

Marshele
Rips Restaurant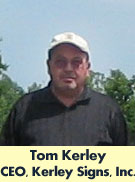 Since its incorporation in 1985, Kerley Signs has provided a uniformly excellent standard of service to businesses, government institutions, religious establishments, schools and all other organizations in the metropolitan Washington, D.C. area, as well as Virginia, Maryland and a number of other states. If your organization is looking for a local LED sign-maker and installer that will do the job with an emphasis on quality, versatility and service, you can't do better than Kerley Signs.
In addition to creating traditional signs, Kerley has consistently stayed at the forefront of LED sign-making technology. The company is able to build and install a dazzling selection of high-resolution and durable video signs. The signs can be scaled to suit your needs, capable, if needed, of displaying full-motion HD video at 60 frames per second.
Contact Kerley Signs today, for all your local LED sign service requirements.