E16MM Color LED Display Sign
If you want a great-looking outdoor electronic sign but need a more affordable LED display, consider our E-16mm sign displays that deliver value and performance.
The E-16mm color LED uses the same high-quality 16mm elements as the "true" 16mm, but at a lower density. This makes for a sign that offers a high resolution and sharpness, but is best suited for medium- to long-range viewing distance. The elements have been rated for at least 100,000 hours of continuous operation under harsh laboratory testing conditions.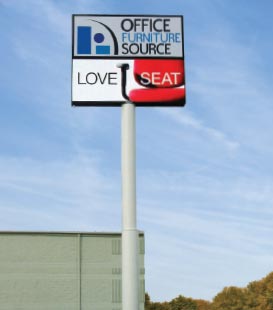 The LED elements are also encased in a silicone gel bed, which makes them exceptionally weatherproof – they have been tested in up to 180 days' underwater immersion, and 60 days of salt water spray. The electronics can operate in temperatures between -40° F to +185° F, and the cabinets have ben rated for -40° F to +140° F.
The LED elements come in a modular matrix of predetermined size (squares a little less than 12 inches on the side). They can be combined to make custom full-scale displays of various sizes and aspect ratios. The electronic components of the sign have a 100% solid state construction, further reducing the chances of breakage.
The XVS video system that comes as part of the standard specification for the E-16mm signs allows for a dazzling color depth of 4.72 sextillion colors, as well as progressive streaming video at 60 frames per second. This means that it's possible to display live video on the signs, great for broadcasting live events.
This is only one of the convenient back-end options that are available for the Kerley digital signs. For the customer's convenience, the signs can be accessed via several different communication methods, including wireless and wired, phone modems and fiber optics.
The E-16mm color display is a great option that will give you the brightness and clarity of a 16mm LED sign, as well as video streaming capabilities, at significantly lower cost than a full-resolution "True 16mm" sign.