35MM Color LED Display Signs
Putting a large and vivid LED display next to your establishment will catch the eyes of every driver and passerby.
An advertisement on TV or in a newspaper is a great way to reach a wide audience, but that audience has to write down numbers, make clippings, remember addresses and plan trips. Businesses, churches and destinations have enjoyed increasing the number of visitors instantly. Our testimonials speak of precisely this effect.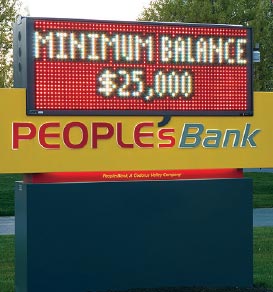 A 35mm color LED sign from Kerley will pay for itself many times over. The 35mm LEDs are the largest lighting elements that we offer our customers; they are suited for displaying large text, allowing for character height of 10″ and above. All our LED signs also come with hundreds of ready-made stock animations, and make it possible to edit fonts and play imported video clips with the proprietary Ignite Graphics Software.
The LEDs themselves have been engineered for maximum durability and service life – upwards of 100,000 hours. The elements are fully encapsulated in a bed of silicone gel, making them extremely weatherproof (tested through 180 days of full underwater immersion, saltwater spray and other conditions). The electronics will function in temperatures from -40° F to +185° F, while the cabinets can operate in -40° F to +140° F.
The modular design of our LED displays makes it possible to fill orders of just about any size and aspect ratio, in increments of approximately 12 inches tall and wide. It's possible to connect to our signs using a number of different options, wired and wireless. No matter what your establishment's profile, you will certainly benefit from a large and bright LED sign from Kerley.