25MM Color LED Display Signs
An eye-catching LED display sign can be a better way to attract visitors than a TV commercial, and with Kerley Signs & Watchfire LED technology, you are assured of enjoying the long-term benefits of each.
The 25mm LED sign from Kerley is a great medium-resolution option for a sign that will be seen from intermediate distances.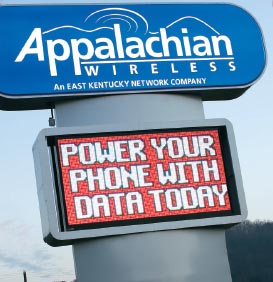 The LEDs are engineered in a flexible and scalable matrix, and can be made into a sign of any size and in any aspect ratio desired. Furthermore, the individual display elements are encased in a silicone gel envelope that completely protects them from moisture and other hazards, up to and including full immersion in water. The signs feature a 100% solid state construction; the absence of moving parts, in addition to the +100,000 hours of continuous operation that the elements are rated for, makes for a display that will need very infrequent repairs.
The electronics in our signs are approved for operation in temperatures between -40°F and +185°F, and the cabinets – between -40°F and +140°F. The 25mm LED signs allow for character height of 7″ and above. With the optional XVS upgrade, the signs can display brilliant, true-color video in a full-motion stream of 60 frames per second (under the standard specification, the maximum framerate is 30fps).
To make it easier for our clients to manage the signs themselves, we've made it possible to connect and modify their programming via a number of different communication methods, both wired and wireless. We have also included hundreds of stock animations and text options, so updating your sign will always be a piece of cake.