19MM Monochrome LED Display Signs
All electronic Kerley Signs use Watchfire LEDs – a guarantee of high video quality and long service life.
The Watchfire 19mm monochrome LED displays are built to the most exacting specifications, and, with their modular design, can be scaled to create displays of any size and aspect ratio.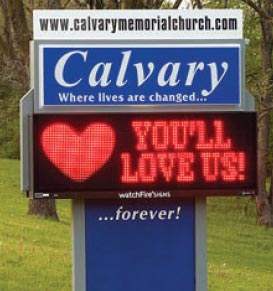 Each LED element is encased in a weatherproof silicone gel casing, making it resistant to water, including salt water. The elements are rated for over 100,000 hours of expected service life. The cabinets can operate in temperatures between -40° and +140° F, and the electronics – up to +185° F.
The monochrome displays are available in red or amber color schemes. The LEDs allow for a shading depth of 4096 tones, and a character height of 5″ and above. The graphics software can render both pre-made graphics and animations specially created for the LED display – of which, hundreds are included for free with your sign order – and imported video clips shot with a regular video camera.
You can communicate with the sign via wireless radio, phone modem and LAN connections. With the durable construction that practically eliminates the need for maintenance, and the ease of updating and managing animations, an LED display sign from Kerley is one of the easiest ways to steer traffic towards a business, church, school and any other establishment that needs to get a message out.