19MM Color LED Display Signs
Import video, text and animation to create a attractive, memorable messages in vivid color.
For a business or an institution seeking to attract customers and visitors, a Watchfire-engineered LED sign can be a better marketing tool than TV commercials and newspaper ads. The 19mm color LEDs can be used in a modular design to create full-color displays in any size and aspect ratio that you require.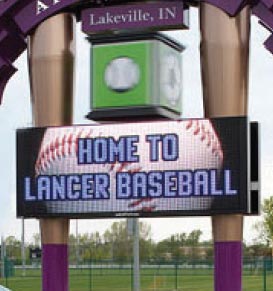 A chain is only as strong as its weakest link, and our links are incredibly strong. Each individual LED element is contained in a full silicone gel casing, which makes them extremely weather-resistant – up to 180 days' full immersion in fresh water during testing, as well as 60 days of being sprayed with salt water. The signs are cleared for operation in temperatures from -40° to +140° F.
Our 19mm LED signs come in the standard specification, which allows for true color capability with billions of possible colors, character height of 5″ and up, and a framerate of up to 30 frames per second. The XVS upgrade expands the capabilities of the display to 60 frames per second.
The displays are very easy to connect to, using a number of different tools and equipment. The signs also come with a free library of hundreds of different customizable animations, so you will never lack for a way to show off your sharp new sign. You can even import video files from camcorders and third-party programs. Training and back-end support are also available.