16MM Color LED Display Sign
This is the highest-quality LED display that we build. The 16mm Color LED offers optimal brightness & a high resolution that will draw customers to your business.
The LED elements in our 16mm LED signs are extremely durable, and the display has a 100% solid state construction for a longer service life. The LEDs are tested for more than 100,000 hours of operation; the video elements and cabinets are rated for operation in temperatures from -40° to +140° F. Full silicone gel encapsulation also makes the elements water-resistant, being able to continue functioning while completely submerged in water for up to 180 days and sprayed with saltwater for 60 days.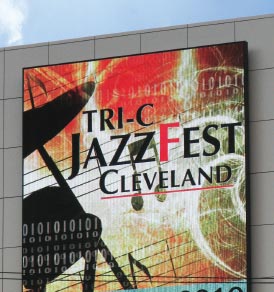 The modular design of all our signs makes it possible for them to be built in almost any size; orders typically range from 32×120 to 128×360 in., though larger sizes can be built. The 16-mm display allows for character height of 4 inches and up – the best resolution of all our displays. The full-color RGB display supports trillions of colors for the greatest possible display gamut; the W-series 16-mm displays can show up to 30 frames per second, while the high-end XVS series go up to 60 fps.
We also offer excellent back-end support – the signs are very easy to connect to, and it can be done using several communications options. There are hundreds of stock animations to choose from, and they're very easy to modify and customize for the needs of your business or institution. Our software makes it easy to import videos and animations created in other programs.
FEATURE
W-Series
XVS
Pixel Pitch
16mm: 3670 pixels/ square meter resolution
16mm: 3670 pixels/ square meter resolution
Character Height
4" and larger
4" and larger
Color Depth Capability
144 quadrillion
4.72 sextillion
Expected LED Life
+100,000 hours
+100,000 hours
Viewing Angle
140° horizontal x 70° vertical
140° horizontal x 70° vertical
Graphics & Animation
FREE: Hundreds built in EasyArt files
FREE: Hundreds built in EasyArt files
Video Frame Rate
Up to 30 fps
Up to 60 fps
IgniteTM Graphics Software
Exclusively from Watchfire. Includes:
– Still and animated graphics
– Font editor
– Message logging
– Wizards
– User manual
Exclusively from Watchfire Includes:
– Still and animated graphics
– Font editor
– Message logging
– Wizards
– User manual
Communications Options
RF Wireless; Phone Modem; Fiber Optic; LAN & WAN Broadband
RF Wireless; Phone Modem; Fiber Optic; LAN & WAN Broadband (Note: Live video requires fiber direct connection)
Power
120- or 240-volt single-phase 60HZ
120- or 240-volt single-phase 60HZ
Field-Adjustable Brightness Control
10,000 NITs maximum
10,000 NITs maximum