Augusta County, Virginia Signs
Divided in to several magisterial districts – Beverley Manor, Middle River, North River, Pastures, Riverheads, South River, and Wayne – Augusta County has a balanced collection of towns, shops, fine dining, and beautiful landscape. There are countless recreational and cultural opportunities located within the confines of this county. Perhaps one of the most beautiful attractions in the county can be found within the area which makes up Natural Chimney Regional Park. This park contains rock formations which tower over 120 feet above the idyllic terrain of the Shenandoah Valley. These massive natural structures provide a majestic scene which can only be described as unrivaled. From a distance, these gigantic stone formations resemble colossal chimneys, earning it the name it rightfully deserves.
Looking to get out of city life and reconnect with mother nature? Visit places like Sherando Lake in Lyndhurst Virginia. One of Virginia's most popular camping areas, Sherando lake offers 65 family campsites, as well as group sites as well. The Sherando Lake Recreation area is comprised of 2 lakes, with the majority of the recreational facilities lying between them. The area which is located within the beautiful Blue Ridge Mountains, is by far one of the most popular recreational areas location in the George Washington National Forest.
However, outdoor recreation is not the only attractions Augusta county has to offer. There are also a plethora of fine dining and unique shopping experiences which should be listed as a "Must See" on your itinerary. Are you a fan of shopping? Come visit any number of unique shops, factory outlets, antique shops, wineries & breweries, or any other number of quality shopping resources. Come stand in awe at the sophisticated sign designs Virginia Sign companies such as Kerley Signs Inc. create to entice the consumer as well as deliver the intended message. One example of such a unique dining experience can be found with a visit to Augusta County's premier Ice Cream establishment. This is perhaps the most unique ice cream shop you'll ever visit. Opened to the public on Saturdays only, this shop makes it's product by hand, one order at a time. Call ahead and reserve an appointment for Monday – Friday for tours and tasting, a trip the whole family will enjoy! Located at the base of Afton Mountain, Perfect Flavor is a great spot for tourists, hikers, bikers, and wanderers alike.
So regardless as to your interests, come to Augusta County to experience Virginia at its finest. With attractions and activities always in the mix, there's no way you or any member of your family will leave disappointed!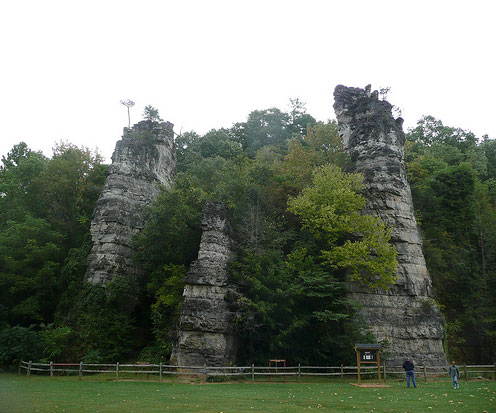 Some of the Natural Stone Structures found within the Natural Chimney Regional Park in comparison to a few on-looking tourists. Amazing!