Arlington County, Virginia Signs
Located directly southwest of Washington D.C., - across the Potomac River – Arlington County is home to an approximated 210,000 residents. Just this past July (2009), Arlington County was voted onto the list of "Best Places for the Rich and Single" by CNN Money. In 2006, Arlington was ranked among the top twenty U.S. Counties with the highest median household income, along with approximately five other Northern Virginia Counties. By visiting Arlington County, you are giving yourself the opportunity to experience world renowned cultural and historical attractions, phenomenal views of the nation's capital, and other unforgettable experiences.
If there is one thing Arlington is known for, it's how deceiving the size can be. Depending on who you talk to, Arlington is either the "the biggest small town – or the smallest big city – you'll ever visit." The neighbor hoods found within the limits of Arlington are known as Urban Villages, and are comprised of some of the most contemporary housing options you can find anywhere. Scattered throughout these urban villages you'll experience some of the finest high-end shopping along with a few of the hippest boutiques around! Visit bright and happening places such as Crystal City, Arlington's largest downtown area! Being as how the area has easy access to Washington D.C. as well as Ronald Reagan Washington National Airport, the area attracts nonprofits, artists, tourists, and residents alike.
While visiting Arlington County, there is one activity that you absolutely must save time for. The Answer? Visiting all of the historical attractions you possibly can. There is an abundance of world-renowned monuments and memorials, all with different meanings. On the flip side, there are also some attractions found here with a sort of "Arlington Edge" to them. These attractions tend to be a bit out of the ordinary, but that's why people can't get enough of em'! A few examples of Arlington Attractions include: Marine Corps War Memorial (Iwo Jima), Arlington National Cemetery, Arlington House-The Robert E. Lee Memorial, the Kettler Capitals Iceplex, the Air Force Memorial, the Pentagon Memorial and the Arena Stage.
Arlington County also offers a dining/nightlife scene absolutely unrivaled! With hundred of dining options, you're sure to find the perfect dish for yourself. Find family-friendly restaurants to please every member of the family. Looking for something a little less mundane? Try out some of the newest in haute cuisine, experiencing dishes made by world-renowned chefs. After dinner plans? Arlington County offers an array of nightlife activities from music venues, bars, to clubs and other such places. While walking around, notice the incredibly enticing signs in Virginia. You certainly won't want to miss a night out on this town! Overall, regardless your interests, there is a little something for everyone!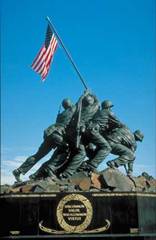 A Glimpse at one of the Many Memorials/ Monuments in town, Iwo Jima (Marine Corps Memorial)