St Mary's County County, Maryland Signs
Located in Southern Maryland, St. Mary's County could very have the most historical depth, as it began welcoming travelers back in 1693. Currently, this county is home to approximately 100,000 residents, and thousands of tourists year round. Regardless what it is that you're looking to do, there is something that will keep every member of the family smiling the entire trip. For all of the history buffs out there, be sure to visit Historic St. Mary's City. Experience a plethora of historical highlights including a replication of a 17th century hotel, listening to the story of the first printer south of Boston, and visiting the Godiah Spray Tobacco Plantation – "a working farm with first person interpreters and heirloom livestock."
As with most counties found within Maryland there are a variety of Historical trails which run through St. Mary's County. A few examples of such trails are the Underground Railroad Network to Freedom Trail, Star Spangled Banner Trail: War of 1812, Chesapeake Bay Gateways Network, and perhaps one of the most famous/favorite historical trails in the area, the John Wilkes Booth Escape of the Assassin Civil War Trail. Each of these trails has designated sites within St. Mary's County, allowing visitors the opportunity to experience a part of history they never thought possible.
Looking for more than just historical attractions? The shopping and dining aspect of St. Mary's County can only be described as incredible. As with most places in Maryland, the seafood establishments are truly one of a kind, offering amazingly fresh meal options. However, these are not the only unique restaurants found here. There are a good amount of exceptionally original places such as Bruster's Real Ice Cream – offering homemade ice cream creations- and also Brewing Grounds Coffee – offering a variety of gourmet coffees, teas, fine desserts, pastries, and light breakfast and lunch. This is only a miniscule example of the phenomenal array of restaurants you will find at your finger tips while visiting St. Mary's County.
As you might begin to imagine, the shopping throughout this county can simply be described as magical. Find everything from antique shops, handmade crafts of all shapes and sizes, various collectibles, and all types of nautical gifts. Walking down the strip you'll notice a variety of some of the most originally crafted signs in Maryland. It would be near impossible to not be able to find something for everyone on your list. Visit places such as Crab Claw Gift Shop and Museum – a specialty store offering Maryland and Nautical Gifts, Crazy For Ewe – a unique shop offering luxury yarns, knitting needles, and stylish designs (you can even participate in classes!)- and Dragonflies – a fine and unique gifts store which carries glass art, jewelery, original oil paintings, and wine accessories. No matter what type of shop you enjoy spending time in, you're sure to find it right here!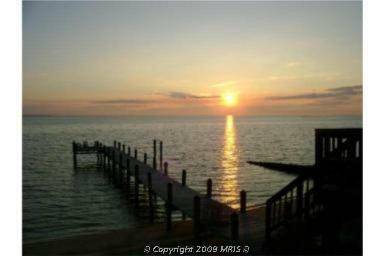 A Beautiful Sunset From A Dock Located Deep Within the Heart of St. Mary's County