Queen Anne County, Maryland Signs
With acres upon acres of bucolic rural landscape, Queen Anne's County was named after Queen Anne of Great Britian who happened to be in power when the county was established back in 1706. Located on the Maryland's Eastern shoreline, this county offers an exceptionally serene setting perfect for snagging some relaxation whether or not you're alone or with the family. While visiting, you will have the opportunity to view some breathtaking landscapes including a few run in's with some very unique wildlife and waterfowl! Visit the Chesapeake Bay Environmental Center to learn more about the local wildlife, as well as participate in a variety of activities such as renting kayaks, walking the boardwalk, or perch up in an observation tower and just watch the world unfold.
Enjoy outdoor sporting? Well than you've come to the right place! Queen Anne's County offers a variety of fishing opportunities second to none! Come try your hand in salt or freshwater fishing. Here's an example of a few species you'll find yourself face to face with: Striped bass, large mouth bass, sea trout, bluefish, Spanish mackerel, black drum, Atlantic croaker, white perch, yellow perch, crappie, pickerel channel catfish, bluegill and more! Other outdoor sporting opportunities include hunting and shooting sports, encountering pheasants, mallards, quails, chukar, and Hungarian partridge, deer and other similar species. Not one for fishing or hunting? Visit any number of hiking, biking, and kayaking trails scattered throughout the county for a true taste of Maryland's natural attributes.
Stop at any number of unique shops to experience small town business at it's finest. One such place can be found at Backyard Billy's, home to Amish crafted swing sets, gym sets, play houses, gazebos, barns, sheds, indoor and outdoor furniture and fireplace! Stop by to see pure craftsmanship, similar to all of the unique and attractive signs found in Maryland Come in to La Belle Maison, LLC to find specialty European gifts, decorative dinnerware, pottery, custom cabinetry which will undoubtedly enhance your home décor. Come on down to The Country Petaller for a unique selection of creative gifts. Their specialty: dried & silk flowers, wreaths, arrangements, and swags. Shop here also for Yankee Candles, Nautical Art, Boyds bears and other treasures.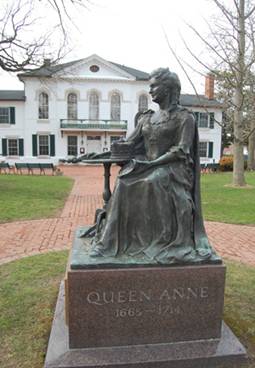 A Statue Dedicated to the Queen for which the County was named.