Baltimore County, Maryland Signs
Located in the Northern portion of Maryland, Baltimore County is home to an approximated 763,000 residents, and is considered to be part of the Baltimore-Washington Metropolitan Area. Northern Baltimore County is comprised of rolling hills and beautiful landscapes, while the Southern portion is predominantly suburban. Contrary to popular belief, the city of Baltimore is not actually part of Baltimore County. There are also a few Colleges / Universities located within the County. As far as Universities are concerned, the Towson University and the University of Maryland, Baltimore County (in Catonsville) are both located in Baltimore County. In terms of privately owned colleges go, Goucher College is located in Towson, and Stevenson University.
However, academics is not the only thing that can be found in Baltimore County. There are countless number of museums in the area. These institutions range from the Museum of Fire, State Police Museum, Historical Society, Lutherville Historical Colored School #24 Museum, and a number of other informational/educational options. Besides Museums, there are also a number of other historic sites which provide great opportunity to learn about Maryland's history. A few examples of these historic sites include: Banneker Historical Park and Museum, Battle Acre Park, Emmart-Pierpont Safe House, Hampton Mansion, and Jerusalem Mill at Gunpowder Falls State Park. These sites have everything from trails to travel down, to interactive exhibits, enabling all who visit to really get a feel for why these sites are considered historical.
What type of self respecting Maryland County is complete without some assortment of amazingly delicious crab houses hanging around. In Baltimore County's case, there are plenty of scrumptious options awaiting your arrival. Captain Harvey's Restaurant & Crab Garden, Original Crackpot, Gibby's Seafood & Gourmet Market, and Reter's Crab House & Grille are only a few examples. Be SURE to stop in at any of these establishments to experience "locally treasured" cuisines. You're sure to enjoy well prepared meals, and service with a smile!
Baltimore County also has a very unique shopping scene, creating a mix of outlet shops and also a number of downtown areas, each one with a different feel to it. Take the downtown routes to discover original shoppes and one-of-a-kind gifts and accessories. While engaging in this one of a kind shopping scene, take a minute to stop and appreciate the contemporary designs of the Signs in Maryland. Regardless what type of shopping suits you, you're certain to find something you'll consider a great find! Overall, Baltimore County is one place in Maryland you won't want to pass through!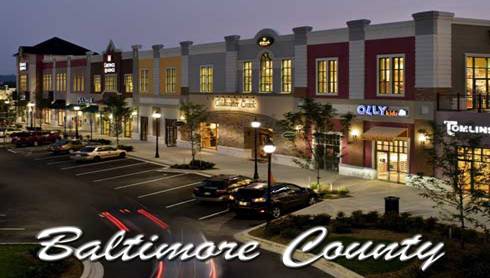 A Look At One Of The Downtown Areas Scattered Throughout Baltimore County